Home » City-wide Community Clean Up 2023
City-wide Community Clean Up 2023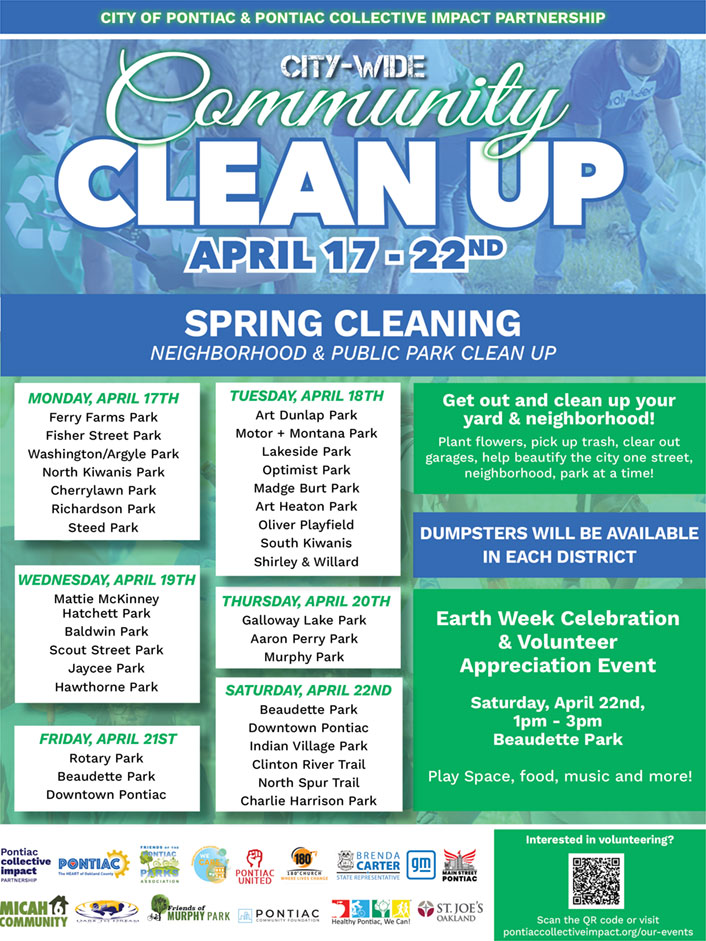 Spring Cleaning Neighborhood & Public Park Clean Up
Get out and clean up your yard & neighborhood!
Plant flowers, pick up trash, clear out garages, help beautify the city one street, neighborhood, park at a time!
Dumpsters will be available in each district
Earth Week Celebration & Volunteer Appreciation Event
Saturday, April 22nd,
1pm – 3pm
Beaudette Park
Play Space, food, music and more!
---
Monday, April 17th 10am to 3pm
Ferry Farms Park
Fisher Street Park
Washington/Argyle Park
North Kiwanis Park
Cherrylawn Park
Richardson Park
Steed Park
Tuesday, April 18th 10am to 3pm
Art Dunlap Park
Motor + Montana Park
Lakeside Park
Optimist Park
Madge Burt Park
Art Heaton Park
Oliver Playfield
South Kiwanis
Shirley & Willard
Wednesday, April 19th 10am to 3pm
Mattie McKinney Hatchett Park
Baldwin Park
Jaycee Park
Hawthorne Park
Stout St. Park
Thursday, April 20th 10am to 3pm
Galloway Lake Park
Aaron Perry Park
Murphy Park
Friday, April 21st 10am to 3pm
Rotary Park
Beaudette Park
Downtown Pontiac
Clinton River Trails & North Spur
Saturday, April 22nd 10am to 3pm
Beaudette Park
Downtown Pontiac – Phoenix Center Area
Indian Village Park
Charlie Harrison