Collaborations
The Pontiac Collective Impact Partnership strengthens the collaborative work of many partnerships and organizations working to improve our community!
The lists below highlights existing collaborations and organizations, some of which intersect with PCIP's work. Please reach out to these partnerships and organizations if you'd like to get involved. To have your partnership or organization added to our list, please contact us.
---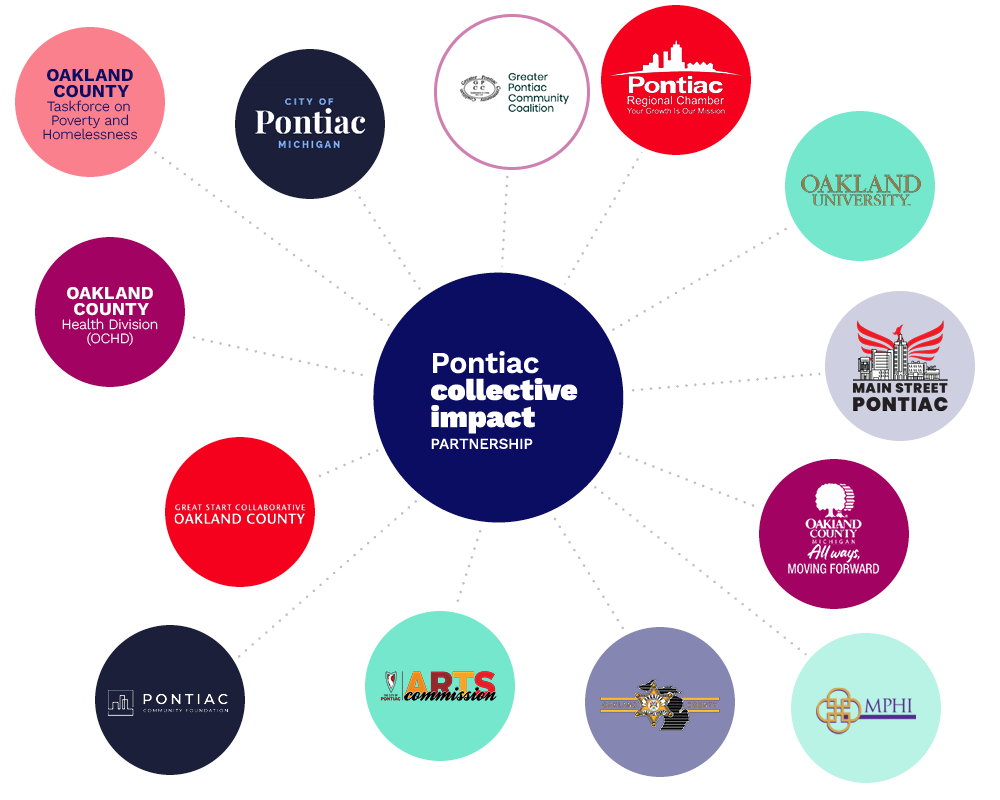 Partnerships
Partnerships are formal or informal groups of individuals and organizations that are working together towards a common goal. Listed below are the lead organizations, partnership name, a brief description, and links to more information (when available).
Pontiac Collective Impact Partnership
Pontiac Youth Enrichment Collaborative
Thriving Neighborhoods Strategic Action Team
Cradle to Career Education Strategic Action Team
Pontiac Community Foundation
Racial Health Inequities Task Force
Prevention Pontiac – Substance Use Prevention Group
Transportation Task Force
COVID-19 Community Coordination Calls
Great Start Collaborative
Greater Pontiac Community Coalition
Mainstreet Pontiac
Michigan Public Health Institute (MPHI)
Regional Equity Group – GDAC work (Lisa Braddix)
Oakland County Taskforce on Poverty and Homelessness
Oakland County Health Division (OCHD)
Healthy Oakland Partnership
Energizing Connections for a Healthy Oakland (ECHO)

Advisory Group
Community Engagement/Equity Subgroup
Food Policy Council

Regional Health Equity Council
Oakland County Sheriff's Office
Sheriff's Relation Task Force
Oakland University
OU-Pontiac Initiative
OU-PIECE
Pontiac Arts Commission
Pontiac Regional Chamber of Commerce
Pontiac United Education Coalition
Pontiac READS!
---
Community Organizations
The following list includes nonprofits, faith-based organizations, and others working throughout Pontiac.
Ascend Foundation
Baldwin Center
Center for Success Network
Centro Multicultural La Familia
City of Pontiac
Community Housing Network
Dream Center of Michigan
E-Community Outreach Services
Flagstar Strand Theatre
Friends of the Pontiac Parks Association
Friends of the Clinton River Trail
Great Start Readiness Program
Habitat for Humanity
Honor Community Health
I Am The Village
Kensington Church
Kids First Initiative
Lancaster Village
Lighthouse
Micah 6 Community
Michigan Works
New Springfield Missionary Baptist Church
Oakland Community College
Oakland County Historical Society
Oakland County Planning
Oakland County Health Division
Oakland County Sheriff's Office
Oakland Forward
Oakland Literacy Council
Oakland Livingston Human Service Agency (OLHSA)
Oakland University
Oakland ISD
Pontiac Creative Arts Center
Pontiac Community Foundation
Pontiac Farmers Market
Pontiac Housing Commission
Pontiac National Pan Hellenic Council
Pontiac Promise Zone
Pontiac Public Library
Pontiac Regional Chamber
Pontiac School District
Pontiac Universal Crimes
Pontiac Youth Assistance
Talent Development Coalition
Welcome Missionary Baptist Church
Woodside Bible Church
Venture Housing
Head Start (OLSHA + Care House)
---
Youth Programs
Accent Pontiac
Boys and Girls Club
Junior Achievement
Kids Standard
Lomas Brown Jr. Foundation
Murphy Park Summer Camp
Pontiac Panthers
Pontiac Skatepark Project
Pontiac United
Pontiac Youth Recreation and Enrichment Center
Power Company Kids Club
Reimagine Recreation – United Wholesale Mortgage
Reroot Pontiac
Salvation Army
Sheriff PAL Program
The Art Experience
Wild Dogs FC
---
Businesses