Home » Event Wrap Up: Call to Action – Improving Opportunities for Pontiac's Youth
Event Wrap Up: Call to Action – Improving Opportunities for Pontiac's Youth
Pontiac's Mayor Tim Greimel, Cal Talley, Coco Moulder, and Dr. Deirdre Hurse joined PCIP at The PLAT in Pontiac to speak to regional support for cradle to career education opportunities
Thank you to everyone who braved the ice and snow on Friday, February 17th, and joined us at The PLAT in downtown Pontiac!
During this Call to Action event, several key partners from around Pontiac and Oakland County spoke about how we can best support our youth as they navigate educational and career opportunities in the area.
The event was live streamed on Facebook, which you can watch here, or read on for a recap!
PCIP is Helping Lead the Way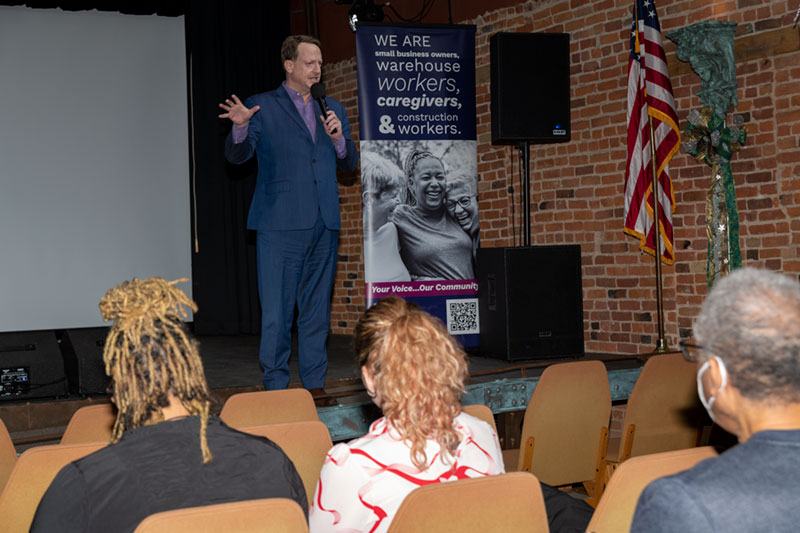 Pontiac's Mayor Tim Greimel kicked off the event by sharing that Pontiac has received $38m in American Rescue Plan funding from the federal government, and that some of this funding has been earmarked specifically for workforce development and small business support.
The city plans to unveil new programming each quarter, specifically to address key priorities that the council has identified as promoting economic revitalization.
Mayor Greimel also shared that the city would unveil specific programming that connects to the initiatives that PCIP and other community partners are offering this summer.
He closed by thanking PCIP for helping lead the way, as well as noting the importance of other partners such as Oakland 80 and the Pontiac Promise Zone.
We're Going to Be Laser Focused
Cal Talley from Oakland 80 spoke about how this county-level program was specifically devised to address the college education gap within Michigan as a whole, but particularly within Oakland County and Pontiac.
The stats definitely favor growth: 38% of Michiganders have a college degree, with Oakland County, at 61%, one of the highest counties in the state; however, just 17% of Pontiac residents have completed postsecondary education. "We're going to be laser focused working with Pontiac," Mr. Talley stated. "We need to get this number from 17% to one that Pontiac deserves."
Oakland 80 is supporting this growth by coordinating a variety of programs in the region. Students can work with them to discover which educational pathways best meet their needs — from apprenticeships to skilled trades, certifications to a college degree. They embed career and education navigators in communities throughout the county, who offer mentorship and coaching to ensure goal attainment.
Overall, Oakland 80 is working hard to build and nurture relationships throughout the community, with a specific focus on our youth.
The Best Kept Secret in Pontiac
Despite being founded in 2010, Executive Director Coco Moulder considers the Pontiac Promise Zone (PPZ) as—unfortunately!—the best kept secret in Pontiac. Their specific mission is to provide financial support to students of the Pontiac School District (PSD); as of Fall of 2022, they've provided over $400k in tuition scholarships.
One of the biggest issues that Ms. Moulder noted is that young people don't often know what skilled trades are, and the kinds of jobs that are available to them. "Jobs that existed when we were growing up are not the jobs of today," she noted. "We need to change the mindset of our youth. It's not just electricians and plumbers—it's yoga instructors, too! So we need to ensure that our youth keep apace with modern skilled trades."
Students who live in the PPZ—specifically, the Pontiac voting district—and who attend PSD schools are eligible to receive tuition support. Depending on how many years they've attended PSD schools, they can receive up to $8k/year for their first two years, and up to $10k/year for their final two years of education. Ms. Moulder emphasized that this funding was available to students up to 5 years post high school, and that it can be applied to any academic, apprenticeship, or trade institution in the state of Michigan.
Our Role is to Help Our Students Achieve their Dreams
In her introduction to Dr. Diedre Hurse's presentation, PCIP's Director of Strategic Partnerships, Anisha Hannah, noted that we often focus on the negative when we speak about the youth in Pontiac. Rather, "our role is to help our students achieve their hopes and dreams," she asserted.
As a methodology, Dr. Hurse, Associate Professor at Oakland University, shared the work of Pontiac native Trabian Shorters. Specifically, framing the work that we do within our community from an asset rather than a deficit perspective. "Trabian Shorters found that much of the narrative about Black Americans is through a deficit lens," Dr. Hurse shared. "And when you focus on deficits, they become interchangeable with the people you're seeking to help."
Deficits focus specifically on what's wrong, whereas assets highlight aspirations. Instead of defining the community by what they lack—"low income students"—we should discover what the community wants to do, what's important to them, and build programming that meets those requirements. To create equitable outcomes, we must focus on the goals and not the attributes of our community.
It's Unacceptable That When Folks Think of Pontiac the First Thing They Think About Is Poverty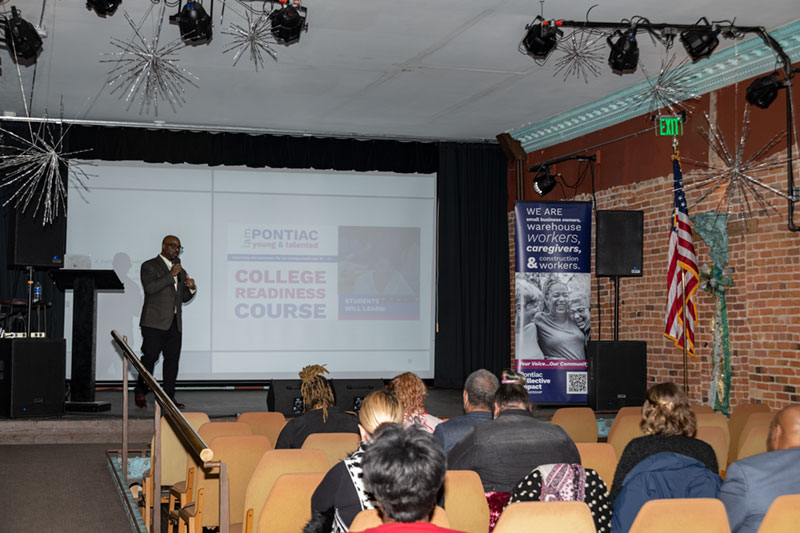 Closing out the session, PCIP's Executive Director, Dr. Samino Scott, spoke about many of the challenges that both Pontiac and the region as a whole has experienced. "But we must remember that this didn't just happen overnight," he said. "For 400 years, Black and Brown Americans have experienced social and economic inequities that must be addressed."
One of the beautiful elements of Pontiac is its diversity, which presents us with a unique opportunity to come together and address our challenges ourselves. This kind of work must be performed at a systemic level, and include initiatives in education, housing, the criminal justice system, mental health programs, and employment.
The key to Pontiac successfully addressing some of these challenges at the root-level is to create an environment of supportive collaboration. "Just because we have different perspectives doesn't mean we can't connect," Dr. Scott explained. "As a convener, it's our goal to bring practitioners together. We know that we can go further together than we can alone."
Some of the youth-oriented initiatives that PCIP is helping to facilitate with other community partners include:
Class of 2023 Graduation Fair – with Pontiac Promise Zone
College Readiness Course – with Pontiac School District and Oakland Community College
Summer Internship Program – with Michigan Works
Junior Achievement – with Oakland University
LEAP Camp – with Lomas Brown
Details about each of these events and opportunities will be made available through the websites and social channels for PCIP and its partners, so sign up to stay in the loop!
We Can't Do This Without You
Dr. Scott ended with our Call to Action, and what you can do as a member of the Pontiac Community to help create more opportunities and economic mobility for our youth. Specifically:
Be an Advocate—share all of this info and knowledge with others in the community
Volunteer—join PCIP and other community organizations as we support our youth
Share Your Expertise—shine in what you do, bring your expertise to the table, and collaborate with others in the community
Identify Youth—help us identify students and young adults for whom these programs would offer support, and them hold them accountable to and support them in their success
We also shared physical copies of our 2023 – 2027 Strategic Plan, which you can download here.