Home » PCIP Collaborates with Pontiac's Future Leaders for 2023 Youth Expo
PCIP Collaborates with Pontiac's Future Leaders for 2023 Youth Expo
Joined by the Pontiac NPHC and OU-Pontiac Initiative, Pontiac's youth were central to planning this annual event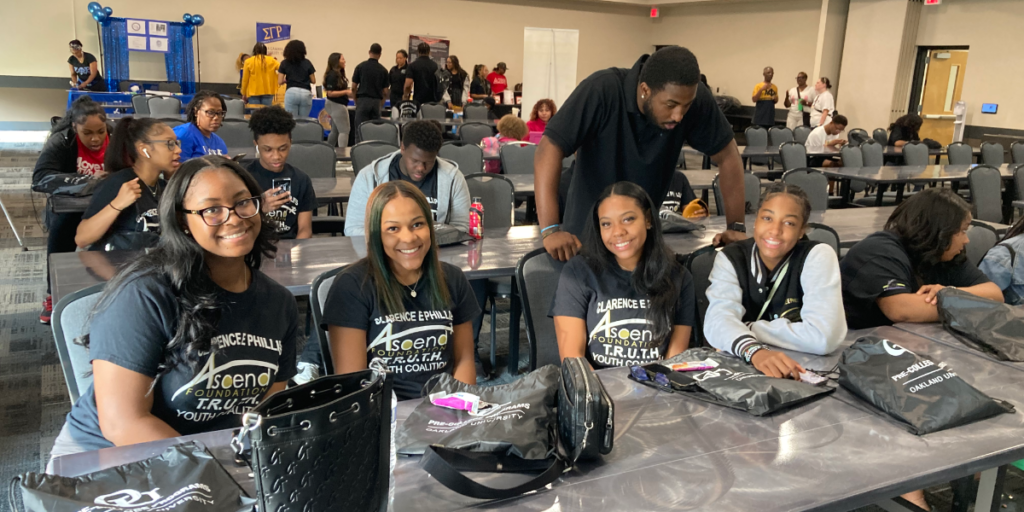 In partnership with the Pontiac National Pan-Hellenic Council, the OU-Pontiac Initiative, and Pontiac's youth, we recently co-hosted the 2023 Youth Expo with resounding success.
Pontiac NPHC was previously the sole host of this annual event in support of the Divine 9's youth groups, so we were inspired by the opportunity to collaborate with them and ensure that our community's youth were included as key members of the event's planning committee. The students who participated were highly engaged and very enthusiastic about everything from planning to implementation.
The focus of the Youth expo is to provide students with hands-on workshops that test their knowledge and abilities in skills such as Teamwork, Trust Building, Creative Thinking, and Leadership. Workshops are designed to challenge their thinking and give them the opportunity to practice these real-world techniques.
Guest speakers are also featured, who share their thoughts on important topics relevant to that year's theme, and provide practical resources that will support our youth as they develop into highly engaged members of our community.
2023 Youth Expo — 13 Reasons Why You Matter
Inspired by the book and film 13 Reasons Why, the 2023 Youth Expo's theme was entitled 13 Reasons … Why You Matter, and focused specifically on mental health.
As a nation, we're facing a mental health crisis that isn't only impacting adults, it's affecting our youth in a major way. Providing resources, practical skills, and opportunities for learning how to cope with difficult emotions and experiences are central to forming a resilient community.
Featured Speaker: Dr. Lucetry Dalton-Trusty
Pontiac native and the 2007 valedictorian of Pontiac Northern High School Dr. Lucetry Dalton-Trusty spoke to kids about the importance of taking a proactive approach to maintaining their mental health.
In addition to her work as a clinical psychologist with the Rock Health Collective, powered by Premise Health, Dr. Dalton-Trusty is an Assistant Professor, Director of Clinical Training, and Director of the Mental Health & Wellness Clinic at Wayne State University. You can learn more about Dr. Dalton-Trusty by reading her Pontiac Proud profile.
Wellness Workshops
Facilitated by Doctoral Students from Wayne State University's Clinical Psychology Department — including Tasha Turner-Freeman, Kimberly Stokes, Cheyla Milo, Madison Freeman, Garrett Donato, and Kenneth Washington — we offered the following workshops:
Workshop 1: Mindfulness Meditations
This workshop focused on the essential connection between one's mind and body. We engaged in breathing and grounding exercises.
Workshop 2: 13 Reasons Why You Matter – Black Joy Edition
Using prompts and exercises to elicit joy, we helped our youth create positive affirmations centering on why they matter.
Workshop 3: Worries and Wishes
Through a series of guided reflective exercises, our youth identified their goals and stressors, shared their wishes and worries, and learned about goal-setting and anxiety.
What's Next?
Co-hosting and collaborating with our kids for this year's Youth Expo was such a wonderful experience, we can't wait to do it again. We're looking forward to working with youth group organizations to provide more leadership training and other opportunities to support our kids as they develop into the next generation of Pontiac's community leaders.
Special thanks to Nicole Wyse, President of Sigma Gamma Rho Sorority, Inc. Co-Chair and the Pontiac NPHC Chapter. We can't wait to collaborate on next year's Youth Expo!