Home » Pontiac Proud: Solon Phillips, Corporation Counsel, Oakland County
Pontiac Proud: Solon Phillips, Corporation Counsel, Oakland County
From 8th Grade History Teacher to Oakland County's Top Lawyer, Mr. Phillips Cites Resiliency as Key to Success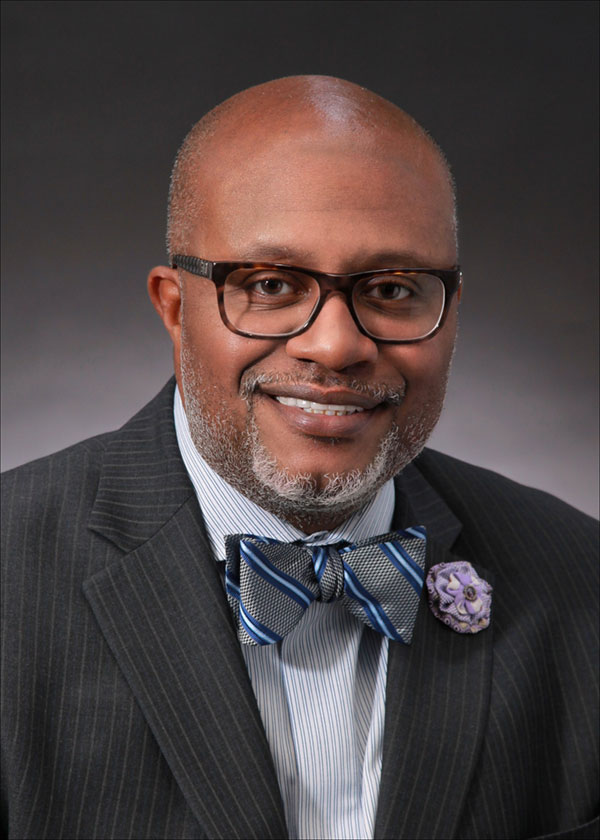 "Regardless of your profession, I think that everyone should spend some time being a public school teacher," Solon Phillips states. Growing up in Pontiac as the son of an attorney, he knew that he always wanted to be a lawyer, but he spent a few years teaching prior to going to law school. "It's valuable, for anyone, no matter the work you end up doing. It teaches you problem solving, learning how to deal with others in an effective way, multitasking, working under sometimes challenging conditions with a limited amount of information or resources—and, regardless, there is still an expectation of a certain level of performance."
Not only did Mr. Phillips' father shape his professional and career goals, but his time in the Pontiac school system was incredibly influential. "I was in the marching band, played football and basketball, and was on the student council," he remembers. "The elders in my community really tried to keep us busy, so that we would stay on track." Beginning in his sophomore year at Pontiac Northern, he was part of the Pontiac Kappa League, which is the main community service project for Kappa Alpha Psi Fraternity, Inc., one of the Divine 9 Greek letter organizations founded by African Americans. "They were leaders in the community, and they encouraged us to look outside Pontiac, visit schools on college tours, stuff like that. So it really opened my eyes."
After graduating from Pontiac Northern High School, Mr. Phillips went on to study at Florida A&M University, an HBCU located in Tallahassee, Florida founded in 1887. He earned his Bachelor's of Science and his teaching certificate, then went on to teach 8th Grade History for four years in the Prince George's County Public School System in Maryland. The idea to teach was his mom's as she was a career educator. She also realized that even if he went to law school, he'd need a job until his dream became a reality.
Ultimately, he pursued his dream and attended law school at the University of Wisconsin—Madison. "Going to law school is a challenging journey in and of itself," he shares. "You start with the LSAT, which requires a lot of studying to pass, and then the law school class load is incredibly difficult. I was able to accomplish it in three years, studying full time, and then I had to sit for the bar, which is a whole other trial. It's basically a two day exploration of over 15 areas of law, and you don't necessarily know what topics they'll be covering, so you have to have a certain level of mental endurance to make it through. It's not that romantic, nostalgic vision that they offer up on TV, it's really hard work."
And it's hard work that brought Mr. Phillips to his current role as the Corporation Counsel for Oakland County. "I've spent my career in civil service, and every job I've had—from working at Wayne County and for the City of Detroit, as well as the Chief Legal Officer for Southfield Public Schools and as General Counsel for the 36th District Court—has led me to this current position. I've been preparing my whole life for it."
No two days look that same, as Mr. Phillips and his staff are responsible for the legal needs of Oakland County government. That includes the Prosecutor, Sheriff, Board of Commissioners, County Executive, Register of Deeds/Clerk, Water Resource Commissioner, and the Treasurer. It also includes all departments, boards, and commissions. "There's a lot of multitasking going on, and I manage a really talented team of attorneys and support staff. My experiences working in Detroit and Wayne County, working cross-functionally, drafting policy for a constituency of over 1 million people—all of these are skills that I bring to the office every single day."
Mr. Phillips points to Pontiac's rich history as a close and tight-knit community, one that promoted the idea that where you were from didn't necessarily define where you could go. "Pontiac was one of the poorest cities in the county, but our elders didn't want economics to define us. That's why going on several HBCU tours, sponsored by Delta Sigma Theta Sorority, Inc., another one of the Divine 9 organizations , changed my perspective on what was available to me. It showed me that there was a whole other world out there, that I could experience, grow from, and then bring back to my hometown to make it better," he explains.
"That's why, if there is one thing I can share with the youth, it's to not shy away from challenges, anything that doesn't come easy to you, don't avoid it, take it head on," he says. "I wasn't always good with math and so I tried to stay away from it, but I could only do that so long, and what that taught me was sticktoitiveness, of finding a way through the difficult stuff (whatever that is for you), of developing that resiliency. Don't be phased or defeated. Just try again. And again, until you get to where you ultimately want to be."