Home » CALLING ALL PONTIAC SCHOOL DISTRICT ALUMNI—Pontiac Northern, Pontiac Central, Pontiac High
CALLING ALL PONTIAC SCHOOL DISTRICT ALUMNI—Pontiac Northern, Pontiac Central, Pontiac High
We invite you to join the Pontiac School District, Pontiac Alumni Foundation, GPCC/Committee of 50, Oakland County Ministerial Fellowship, and the Pontiac Collective Impact Partnership for the annual "Pontiac School District: Spirit Week in the City".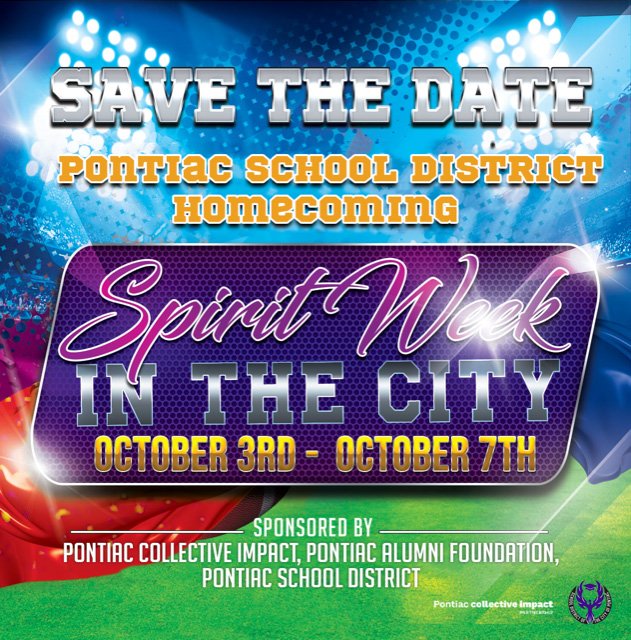 We're calling on all alumni from Pontiac Central, Pontiac Northern and Pontiac High to "Come Home" for a week of activities culminating in the Pontiac High School Homecoming game on Friday, October 7th, 2022.
During the week leading up to the homecoming kickoff, we have a variety of events scheduled to help you reconnect with old friends and learn more about the exciting improvements happenings in the district. "Pontiac School District: Spirit Week in the City" will include tours of the newly renovated high school, ribbon cutting ceremonies, fundraising initiatives, and a multicultural event that will be inclusive of the Pontiac community and schools.
We support Superintendent Kelley Williams, the Board of Trustees, school leaders and staff, students and parents in their efforts to maintain an environment conducive to learning. In addition, our schools need community-wide support from alumni, local businesses and corporations, and the community of our children to thrive. We are inviting you to become a part of the solution.
The Pontiac Collective Impact Partnership is honored to host this year's "Pontiac School District: Spirit Week in the City". We are developing a strategy to support Cradle-to-Career education initiatives in our community. Please visit our website or say hello during the homecoming festivities. Stay tuned for more information about "Pontiac's School District: Spirit Week in the City"—October 3rd – 7th; and Game Day Activities—October 7th!
We look forward to seeing you!