Home » The Principles That Guide Our Way
The Principles That Guide Our Way
These Pillars Help Us Create Systemic Change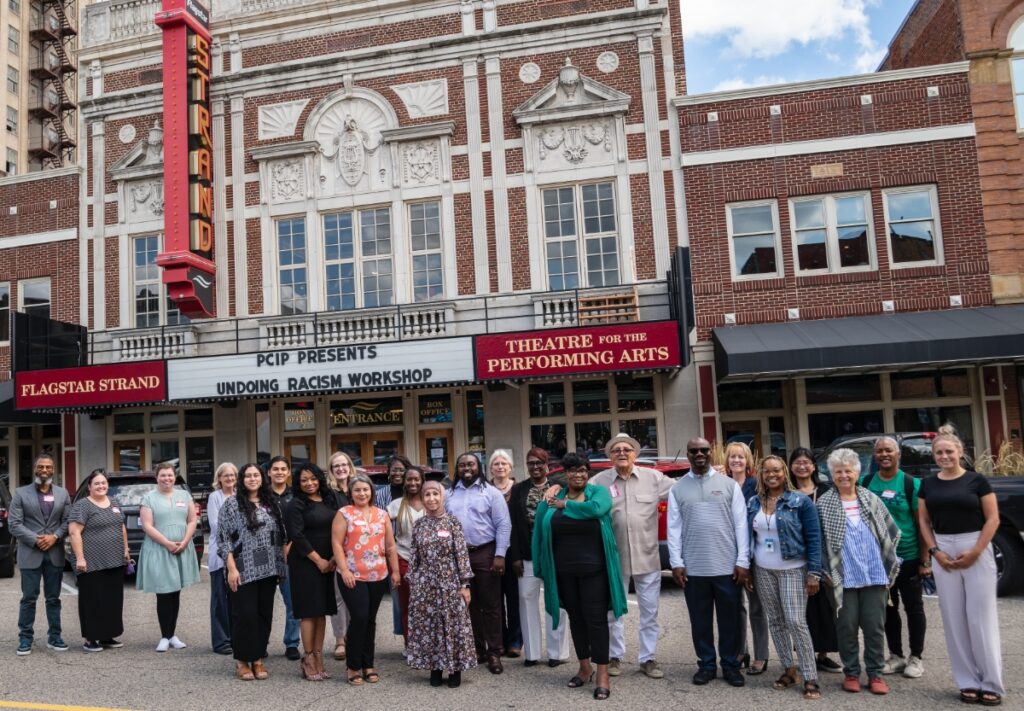 Pontiac has an exceptional number of nonprofit, civic, and community organizations that are committed to revitalizing our neighborhoods, enhancing our educational and career opportunities, supporting our vulnerable residents, and more.
Over the past few years, PCIP has emerged as a community facilitator and convener, working cross-functionally to help streamline our efforts and, hopefully, produce meaningful, lasting change for the citizens of Pontiac — the sooner the better!
We have adopted these four pillars that function as guideposts in our work; this ensures that we're promoting effective initiatives and programs, filling in gaps where needed, and supporting others in the community with the data and information that will help ensure their work results in change that is in harmony with Pontiac's unique culture, challenges, and goals.
These pillars are necessary aspects of civic infrastructure development which enable systems transformation.
Pillar 1: Shared Community Vision
Do you remember the many town halls and listening events that we held when we first launched PCIP? Our diverse residents shared their perspectives, ideas, experiences, and needs, and we learned a lot!
We used this information to identify and then gain consensus on the shifts in policies, practices, resources, and power structures we need in order to produce equitable outcomes in our community.
Pillar 2: Evidence-Based Decision Making
It can be tempting to rely on our lived experience and gut instinct when it comes to civic engagement and community work, but this often doesn't show the whole picture.
To ensure that the work we're engaging in is creating meaningful results, we are committed to the process of rigorously collecting, analyzing, sharing, and taking action with data.
This includes both quantifiable data, such as literacy or graduation rates, as well as qualitative data, such as the narratives and perspectives of both our youth and families. We want everyone at the table, so that we can make the most informed decisions possible as a community.
Pillar #3: Collaborative Action
Collaboration is essential, and one of the ways that PCIP has focused our community efforts.
Pontiac has a lot of love and a lot of folks working really hard to improve everything from academic experiences to job opportunities to recreational activities in our beautiful parks. But some of our groups have become silos for their causes, and that ends up hurting us as a community overall.
As an organization, PCIP advocates for all members of Pontiac's community to agree upon and adopt the tools and processes, as well as build the necessary skills and knowledge, that will help us shift the policies, practices, resources, and power structures that may be inhibiting our success.
Pillar #4: Investment and Sustainability
It's good to bet on Pontiac! Our community deserves investment in the forms of cultural, financial, and social capital.
Without this kind of support, our ability to orchestrate the collaboration necessary to produce and maintain these systemic shifts will be limited.
We're committed to helping our community create and implement sustainable models of development that demonstrate how investing in Pontiac can result in growth for everyone involved.
---
You'll find these Pillars highlighted throughout PCIP's 2023 – 2027 Strategic Plan. Check it out to learn more about them and how we're putting them into action for Pontiac.